1. 2021 Disciples' Village Wish List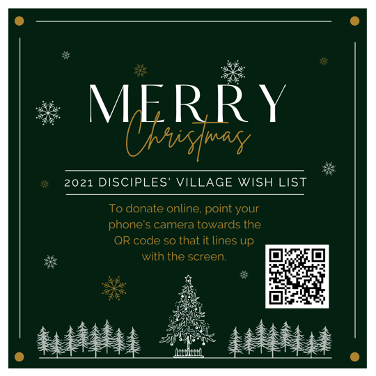 While you're preparing your Christmas gift list, we'd love for you to consider adding Disciples' Village to it.
Here's our Christmas wish list this year:
Full Time Electricity for Kids' Cottages ~ $30,000
Did you know that our children and houseparents only have electricity for about 5 hours a day? Please give to provide 24/7 electricity for fans and lights.
Girls' Cottage $7,000
Older Boys' Cottage $7,000
Younger Boys' Cottage $7,000
Kubota Lowboy Generator $9,000
Vehicle for Jamey Davis family in D.R. ~ $8,000
Did you know that Pastor Jamey Davis and family are moving to the D.R. to start a DV ministry? Please donate to provide them with dependable transportation.
Running Water for DV and AH Campus ~ $4,500
Did you know that for the last few years we have no running water at Alex's House? We have a well and pump, but still need a pump house and solar system to get the water from the ground.
Dunlap Missionary House ~ $7,500
The Dunlap Missionary House houses both staff and volunteer missionaries. Please give to help purchase 16 batteries to bring this system back to working order.
AH College Fund ~ $15,000
Jeff and Jerry Jean are our first two (young men) to graduate from college, however we have many more nearing high school graduation. Please give to help our children have a successful future.
Our Christmas wish is to reach these goals!
To donate, use this online link:
https://disciplesvillage.org/give/
You may also mail to P.O. Box 2101, Lexington, SC 29071
For ease, scan the QR code on the image with your phone camera and it will take you directly to the donation link!
As always, we want to thank our generous supporters! If it were not for those who give, we would not be able to do the work God has called us to do in Haiti and now the DR! Thank you!
2. Hostage Update in Haiti
We are happy to hear that five of the hostages have been released and in good condition. The 12 remaining hostages are now approaching 2-months in captivity. Please continue to pray for these missionaries and their families. We also ask that you pray for the gang members involved.
3. Davis Family Serving in the Dominican Republic
Jamey and Elizabeth Davis along with their 3 children arrived in the Dominican Republic nearly one month ago to expand the ministry of Disciples' Village and they are settling in quite well! God has surrounded the Davis family with other believers in Santiago and provided an apartment for housing in this same area as well as a vehicle for transportation! Jamey has been given opportunities to preach in a couple of churches that led to exciting outreach activities with new friends. The Davis's are preparing to host DV mission teams in the Dominican Republic this summer and fall. To schedule a mission trip or a vision trip contact jamey@disciplesvillage.org!
4. Ganaud Gives Update from Haiti
Due to fuel shortages, the transportation sector has been hit hard resulting in negative effects on almost every other sector. The price of gasoline on the black market shot up to 3,000 Gourdes, about $30 US Dollars over the past month. It has been difficult to find food – especially meat, and propane! Our staff in Haiti have driven countless miles to find the needed food and supplies. Thankfully, DV has been able to purchase approximately 500 gallons of diesel enabling staff to drive to the market for supplies. Roadblocks and protests have presented some challenges preventing our kids at Alex's House from attending school for about a week. The Alex's House kids are getting super excited for the Christmas celebration party and can't wait to receive their gifts that have already been picked up from MFI!
5. Corporate Sponsor Giving is Up!
We cannot thank our corporate sponsors enough for their generous support through giving! In the midst of a global pandemic, our total this year is the most it's ever been! Only God! We've asked our current corporate sponsors to recommit for next year!  If anyone would like information about becoming a corporate sponsor for 2022 e-mail marilyn@disciplesvillage.org.