1. Feeding Program Continues Amidst Government Changes
With heightened concern for the coronavirus, strict Government guidelines have been established throughout Haiti. This called for an alternate approach for food distribution in our partnering villages during the month of May. Groups of 6 or more people can no longer gather making it impractical to continue the school-feeding program in its usual manner. We implemented a plan to provide rice, beans, spaghetti and cooking oil to all schools with established Disciple's Village feeding programs that would allow the Pastor to assume the responsibility of rationing the food supply according to each families size.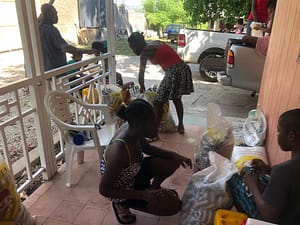 2. Leadership in Action
We are so proud of Mickey and Remy, two of our older boys from Alex's House! On May 24th, they stepped up without hesitation to lead the morning church service at Fontana while Pastor Dorcean was unable to attend due to sickness. Mickey led worship and Remy shared a devotion! According to Shersty, these two young men did an amazing job!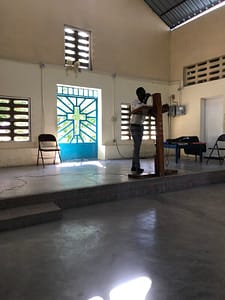 3. Creole and French Resources Available
We are grateful for Delight Thyself Ministries out of Hurricane, WV who is partnering with us as a resource for FREE Bible tracts! A huge thanks goes out to Ganaud for translating the tracts from English to Creole and French in exchange for the tracts! The most recent translation is called "Hope in the Darkness" and we pray daily for continued opportunities to pierce the darkness of Haiti with the hope of Jesus!
4. Women in Business Pivot to Goat Sales
A group of women recently completed a business-training refresher arranged by Shersty Stanton, Women's Advancement Director, in hopes to sell various products such as Haitian rice, vegetables, oil, vinegar and spices at the local market. After checking in with the ladies, it was clear the economy would not sustain enough sales of these various products. The training group agreed it would be best to purchase goats to sell so not to suffer any greater losses. In the coming months when restrictions ease up, the business owners plan to return to their "ti commerce" or small business opportunities.  Keep these hard working ladies in your prayers!
5. Flag Day Celebration May 18th
Flag Day is one of the most celebrated holidays in Haiti. This year celebrations were toned down due to COVID-19 restrictions, but the Alex's House kiddos still managed to observe this special day in Haiti's history.