Will You Sponsor Remy? 
Remy Joseph is one our older boys at Alex's House and is currently in the 11th grade. He is an outstanding student and is making great strides with his translating skills! Remy plans to pursue a career in accounting/management. He has grown so much this past year by modeling strong leadership skills in our small groups where he is an active member of the Next Generation group and Living Water Ministries.  Remy is also leading the team that collects the church offerings each Sunday. If you've ever met Remy, you know he has an infectious smile with a genuine heart for people! Would you prayerfully consider sponsoring Remy? To set up sponsorship payments click here!  You may also contact Steve Haddix if you have questions.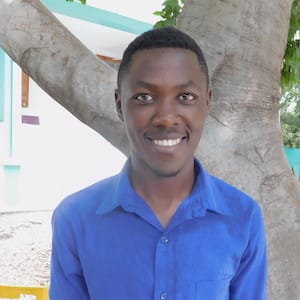 Lanzac School Gets Filtered Water
We are excited to share the recent progress we've made in the village of Lanzac. With the recent partnership from Bethlehem Baptist Church in Greensburg, KY and the new child sponsorships from their congregation, we have been able to buy filtered water for the school staff and students. We will begin buying cooking supplies soon because we are only 25 sponsorships away from starting the daily lunch program! If you are interested in helping us fulfill the remaining sponsorships, you can do so by clicking here.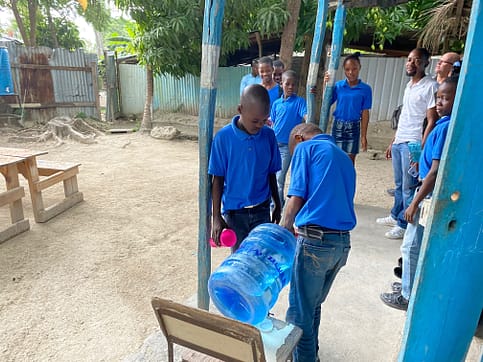 Christmas Celebration at Alex's House
Sunday, December 13, 2020 was a BIG day of Christmas celebration for all of the Alex's House kiddos! They look so forward to this day every single year and this year was no different! They decorated the tree and dining hall all by themselves! The kids made construction paper garland and ornaments for the tree. It truly was a special time for our kids and staff. The DV staff cooked traditional American holiday food, Greg and Britt smoked goat and chicken legs while Jacqueline came in and cooked rice and beans. Everyone had a wonderful Christmas, and it was so nice to be together again as one big family.
Baptism Held for Children at Fontana and Neighboring Village
Earlier in the year, we began having church services on the Fontana Orphanage property. As a result, small groups have formed and lots of relationships have developed. Last month, we witnessed the fruit of this ministry! 12 children from Fontana and our friend, Flourinord from the neighboring village of Kaliko were all baptized! This day was made extra special because Peter and Shay Fontana were able to attend the service. We are so thankful for their obedience to God to use Fontana Orphanage to further the Kingdom!
First Joint Church Service at Fontana Since Coronavirus Precautions
It was nice to finally get back to what felt like a "normal" worship service at Fontana after many months of holding 2 separate services to assist with social distancing related to COVID-19. Thankfully, Haiti continues to have minimal effects of the virus and we ask that you continue to pray for the health and wellness of the Haitian people through this challenging time across the globe.